51st Avenue Station in Oak Lawn


Looking back to 1842, the small German settlement known as Black Oaks was as remote as a train whistle in the night.
That changed in 1880 with the arrival of the Wabash Railroad. The bustling farm town that sprang up from the Illinois prairie was able to provide its residents with unheard of luxuries, such as gas lines for lighting and cooking.
The town incorporated in 1909 with a new name and a new image -- Oak Lawn. By 1920, the Community was a hive of activity, featuring new schools, banks, shops and even its very own fire truck.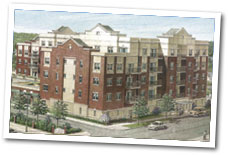 Fast forward to the new millennium. The
Gammonley Group's 51st Avenue Station, with its vintage architectural styling, combines history with modern building advancements and amenities.
The luxurious condominiums provide you with the cosmopolitan lifestyle you expect. You can catch the train downtown, or just stay close to home and visit any of the unique shops or other business located in the adjacent Gammonley retail space.
Come visit 51st Avenue Station in Oak Lawn today. We're simple to find and we offer a variety of models and floorplans to fit your needs and budget.