The Condominium Residences at Seven Bridges


Golf. Shop. Work out. Dine. And enjoy the view. Rising high above one of America's best public golf courses is an elegant, 12 story, curved glass tower that reflects spectacular views, as well as a real estate opportunity like no other.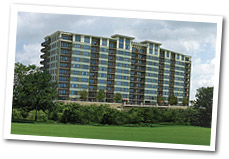 Stand on your private balcony and experience the panorama of incredible, park-like views of a Dick Nugent designed course that even a non-golfer will appreciate. Our elegant lobby is staffed by a 24-hour doorman.
One of the best parts of living next to Seven Bridges golf course are the views of park-like nature. From the rolling green hills in summer, the fiery colors of autumn, the shimmering white snow-covered trees in winter and the soft, bright colors of the flowers in spring. Stroll through the exciting new Main Street at Seven Bridges and do some shopping before having dinner out. Or just stay home and enjoy the incredible views of the course.
Of course most importantly, at The Condominium Residences at Seven Bridges you will be living right next to, as Golfweek says, one of America's best public courses. It's said that one cannot live on golf alone. Well, that remains to be determined. So welcome home. And tee up.